Snapchat Log was updated to version 2.0.0. Supports Snapchat 6.1.2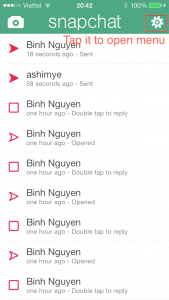 This tweak will install app with name "Snap Log" in home screen. You can also integrate it with Snapchat, and will add an extra option beneath the "Open Settings" button within the official Snapchat app. Tap on the settings icon to access the popup menu, then tap on "Open Snapchat Log" to view the log.
Snapchat Log will save all sent and received messages in organized archives. All your images will be encrypted before storing them
Snapchat Log works on iOS 5, 6, 7 devices, includes iPhone, iPad, iPod touch …
To install. First you need to jailbreak your iPhone. Then open Cydia, find "Snapchat Log", and install it. Done !